In what is sure to go down as the crazed work of a mad genius, Jim Raggi over at Lamentations of the Flame Princess has started up
19 separate crowdfunding campaigns
for adventures from myriad writers across the planar spheres. Amongst the list of writers are brilliant voices like
Jeff Rients
,
Kevin Crawford
, and
Anna Kreider
. I hope all the adventures fund; I know a few of them will be taking money out of my wallet.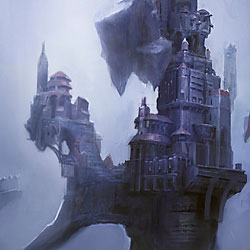 The first adventure to catch my eye was the work of
Vincent Baker
, designer of my favourite game in the universe,
Apocalypse World
:
The Seclusium of Orphone
. Here's the opening pitch:
The Seclusium of Orphone of the Three Visions, in which are perils and treasure both material and obscure, made vulnerable to incursion by her imprisonment in the subrealm Paume
Orphone of the Three Visions is a wizardess of restless and fitful ambition, so often seen in city market and bazaar, paced always by her velvet half-human servant and bodyguard Ioma. For decades she has kept her seclusium unassailable upon an island of three concentric gardens in the Cove of Bar's Toll, working her magics, pursuing her grandizement and mastery, forbidding all to come. Now she has ventured into the subrealm Paume, for reasons of curiosity, provocation or entrapment, and has neither returned nor left any remnant impulse of her will. Even loyal Ioma has departed for other employment.
So her seclusium stands, not vacant, but vulnerable. The wise have not yet approached it, but cast greedy and speculative looks. Who will be the first to venture an incursion? What will they find within?
The Seclusium of Orphone of the Three Visions: a system for creating an original wizard's seclusium to fit into your own game's world, campaign and level, inspired by the iconic work of Jack Vance, with notes on tone and technique, including Orphone's Seclusium itself as a complete and playable example.
And here's Vincent's initial notes on the Seclusium:
Later scholars will identify seven phases in the cycle of development and decline of a wizard's seclusium. It is the fifth phase, the "vulnerable," that interests us here.
Even in its "vulnerable" phase, a wizard's seclusium consists of:
- The physical structure of its seclusium proper;
- The quasi-real footprint of its magical existence;
- Its grounds, gardens, and picturesque vistas;
- Outbuildings for various purposes, both obvious and obscure;
- Passways, checkpoints, and baffles to entry, like walls, gates, paths, and vestibules;
- A position in the countryside and landscape, both physical and customary.
In its "vulnerable" phase, a wizard's seclusium nevertheless has:
- A wizard, but he or she is in some form absent;
- Guardians, but they are no longer intent;
- Portals to other wizards' seclusia;
- Portals to alternate spaces or other modes of being;
- Portals to other places of wizardly significance;
- Long term guests or prisoners of the wizard, whose needs have now gone unattended;
- Evidence or remains of previous treasure-seekers and interlopers;
- Remains of the wizard's endeavors, including dangerous failures and promising experiments;
- The wizard's trappings and treasures.
- Under some circumstances, remnants of the wizard him- or herself, embodied or dis-.
In its "vulnerable" phase, a wizard's seclusium has the attention of:
- Rival wizards hoping for spoils;
- Friendly and allied wizards, concerned for their fellow's wellbeing;
- Local kings, lords, churches, and scholars;
- Treasure seekers;
- Otherworldly entities.
When a wizard's seclusium is in its "vulnerable" phase, it shows as:
- Long inaction with an air of finality;
- Magically communicated calls for help or attention from its guests and prisoners;
- The departure of its notable guardians or servants;
- Unheeded communications, and neglected associations and obligations;
- Successful incursions.
Tone:
- The grotesque: horrific, comedic, pathetic, fantastic;
- Relativism, self-justification, delicacy, understatement, putting the best light on a bad deal;
- There are no status quos. There are catastrophes that unfold at different rates;
- Play to find out what happens.
Pretty much everything Mr. Baker sets to paper is like imaginary cocaine to me, so he's already got my money. I can't wait for this to be on my table.